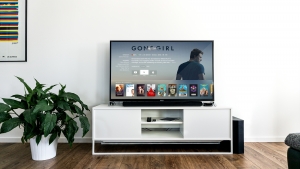 Would you look at that, Valentine's Day is tomorrow. Don't panic – you still have a good 24 hours to pick out the perfect gift. We've got you covered with 12 last minute gift ideas, whether your Valentine is a movie buff, techie or TV aficionado. These gifts don't require any DIY knowhow, fancy stores or deep knowledge of your special someone. Pick any (or all) and you'll be the star of dinner. You did remember dinner reservations, right?
Gifts for Movie Lovers
Every movie lover loves pairing their favorite films with theater-style candy. Skip the fancy chocolate and stock up on Milk Duds, Peanut M&Ms and Swedish Fish. This last minute gift is super easy to pick up at the store on your way home tonight and goes really well with:
A RedBox gift certificate. There are just some times that Netflix isn't going to cut it. Red Box has made it super easy to give the gift of convenient DVDs. Visit the RedBox website and your gift is delivered via email at any time you want. Sounds like a good surprise to wake up to, and it makes you seem like you thought about Valentine's Day weeks ago!
Some of the best movies were books first. Gift your Valentine with a best seller, paired with the movie it became. What about Harry Potter, To Kill a Mockingbird or The Da Vinci Code? Great news for last minute shoppers: even your local grocery store or superstore sells books and movies!
Make your special someone feel like her favorite movie star with an all-expense paid trip to the spa. Sure, this gift is the most expensive on the list, but you didn't think about Valentine's Day until now.
Gifts for Tech Lovers
Your techie probably has hundreds of photos sitting on their phone. Printing them is so 2005 – how about a digital photo frame instead? This one from Nixplay has rave reviews, is priced well and you can find it at Walmart for quick after-work shopping.
Everyone loves a weekend away. Whisk your Valentine to a warmer, geekier place with a trip to Apple's Company Store in Cupertino, California or the Computer History Museum in Mountain View, California. The best part? You can book your flights tonight. For more tech getaways, check out these tech tourism destinations.
Fuel your tech lover's need to tinker with the monthly subscription box meant for hardcore electronics fans. Meet HackerBoxes, the perfect last minute gift for your Valentine. With pieces and parts that only they can understand, this is a gift that will definitely be a hit with your computer science guru.
Does your Valentine listen to books more often than reading them? A gift card to their favorite audiobook app will definitely be appreciated. If they don't already have a favorite, try Audible, Bookmobile or Nook.
Gifts for TV Lovers
Commercials are the bane of every TV lover's existence. Upgrade your Valentine's Hulu account for commercial-free viewing and a last minute Valentine's Day gift they'll definitely appreciate.
Is your date's music taste based on what TV show she heard the song on first? Create a playlist of all her all-time favorite TV tunes using Spotify – and throw in a premium subscription for good measure!
One of the best parts of watching TV is chillaxing on the couch. Add some comfort to your TV lover's living room with an extra-snuggly blanket, some cute throw pillows and a heavenly-smelling candle. All this can be snagged at your local home good shop or a nearby superstore.
Keep the cozy coming with Calmbox. This monthly subscription box includes music, books, snacks, motivational reminders and personal care items (think face masks, bath infusions and more) to keep your Valentine stress-free all year round.