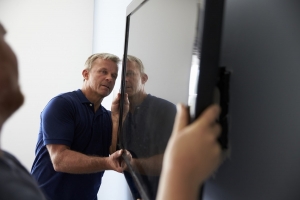 As DISH grows and changes from the satellite TV provider that they were initially known as, they are moving into different industry sectors including wireless and now smart home technology installation.
Some who are reading might ask what exactly this service entails. Simply put, DISH Smart Home Services is exactly what it sounds like: professionally-trained technicians visit your home to install your smart technology items, ranging from virtual assistants like Alexa or Google Nest Hub to smart lighting systems and smart thermostats. 
With the influx of IoT products now on the market and the vast numbers of people switching their basic technology over to smart versions that can be controlled and managed in a number of convenient ways, it only makes sense that DISH has created this new service.
What Other Smart Services Does DISH Offer? 
The list of in-home services that DISH provides for our customers' smart technology and equipment is extensive. Below, we'll give you a brief, concise run-down of what you can hire DISH to do for you, and why their services (and the technology and products in general) might serve as a great investment for you. 
Smart Doorbell Installation – A smart doorbell comes in handy particularly if you're someone who works outside of the home or has frequent business trips. When anyone approaches your front door, whether it is a postal carrier or a friend, you'll be alerted via your smartphone and be able to communicate with the visitor – even when you're far from home. 

Smart Thermostats – Chilly winters and hot summers are so much more enjoyable with smart thermostats. Instead of managing a complicated schedule from a tiny thermostat screen, you can set the temperature directly from your phone to have either your heat or AC turn on just before you return back home. Additionally, this technology is a great way to save money on utility bills by turning the temp down when you're away for an extended period.

Wireless Network Installation – Setting up a wireless network at your home is difficult if you don't know what to do. DISH technicians are trained in wireless networking and can perform this service to provide you with a stable internet connection in any room of your home. Your tech will even connect up to 4 devices to the network for you and show you how to do it on your own.

Television Mounting – If you're not experienced with TV mounting, you could risk breaking you beautiful new television if you attempt to mount it on your own! Instead, a skilled DISH technician will mount the TV wherever you like and adjust the height and placement accordingly to ensure everyone watching will experience optimal viewing angles.
In addition to the services listed above, DISH also provides outdoor and indoor security camera installation, power and cable relocation, and Google Nest Hub installation.
Convenience & Courtesy – The DISH Difference
DISH deeply values their customers' feedback and thoughts, which is why they have made the process for Smart Home Services super simple. After contacting DISH via phone to make your service appointment, you can use your DISH app to check out your technician's location and track them right to your door. Your tech will also give you a 75-minute window so that you have ample time to prepare for their arrival.
After that, all you have to do is sit back and let your professionally-trained technician install your equipment, devices, or products. Before, after, and throughout the installation process, your tech will be mindful of your space and even lay down tarps and wear shoe covers so that their work will not disrupt the peace and cleanliness of your home.
For more updates on where DISH is headed in the future, subscribe to our blog to stay tuned.