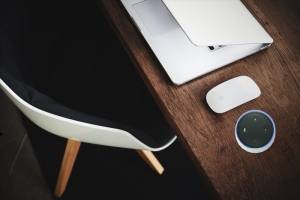 Have you ever wished your Echo Dot was a little more portable? Would an extended battery life make you more likely to use the Echo Dot throughout your home?
Alex, a new product by Kiwi Design, wants you to answer those questions with a resounding yes. I haven't featured a Kickstarter (or any startup) project in a while, so when the team behind Alex reached out to me, I thought it deserved a mention here on Home Tech Scoop!
What is Alex?
Kiwi Design created Alex to make your Echo Dot more portable using a 10000mA/h rechargeable battery. It's pretty easy to use: just drop the Echo Dot into Alex, plug Alex's cord into the Echo Dot, and turn Alex on. You can still plug in speakers or headphones using the Dot's AUX import, even with Alex in place.
Check out for yourself what Alex is all about! 👇
Find Alex on Indiegogo
The product's Indiegogo ends tomorrow. Don't worry; Alex has met its fundraising goal, so the product will be available in the future. But if this is an innovation you can't live without, go order one now for a lot less than you'll be paying in a few months!
Image source: Kiwi Design