Every bathroom needs accessories, so why not make them high tech? As adding technology throughout your home enters the mainstream, bathrooms are becoming smart as well. From Bluetooth scales and smart toilets, to high tech showers and bathroom sound systems, this technology is taking off. Plus, bathroom renovations can be a great selling point down the road, with returns well over 100% in some markets. In the meantime, your bathroom will be anything but boring with these cool bathroom gadgets!

1. Koogeek Bluetooth & WiFi Smart Health Scale
2. Brondell Swash 300 Bidet Seat
While I personally can't get on board with the concept of a bidet, they are becoming a smart bathroom must-have. This is one of Brondell's lower priced smart toilet seats, but it still includes many of the high tech features of more expensive options. Available for both elongated and round toilet seats, the Swash 300 offers a heated seat and warm-water washes, all controlled with a wireless remote.
Add the Brondel Swash 300 in either round ($249) or elongated (on sale for $219.99) styles. It's Prime eligible, so you can be basking in bidet glory in just days. We took a closer look at this smart toilet seat in our Brondell Swash 300 Bidet Seat review post.
3. Kohler Purefresh Elongated Toilet Seat
If you'd like to upgrade to a high tech toilet seat for less, try Kohler's Purefresh Toilet Seat. This toilet seat replacement's main function is the ability to neutralize bathroom odors. It is also excellent for night time use, with a nightlight and Quiet-Close lid. This bathroom accessory adds a touch of luxury and is an excellent entry point into home technology.
This high tech toilet seat is available for just $69.30 from Amazon.
4. Kohler Moxie Single-Function Showerhead with Wireless Speaker
Kohler's Moxie shower head combines traditional functionality and bathroom technology for a sleek addition to any bathroom. Leave your phone out of harm's way on the bathroom counter and use the Bluetooth connectivity of this showerhead to listen to your favorite shower jams. Your music will never be muffled by a shower curtain again! To take your music with you, as well as charge the speaker, pop it out of the showerhead. As an added bonus, the showerhead functionality lives up to the Kohler name with good water pressure and flow.
You can add this bathroom gadget to your home for $77.67 (in chrome) via Amazon. For a full look at the features of the Kohler Moxie Single-Function Showerhead, read our full review!
5. Broan SPK110 Sensonic Speaker Fan
If you'd rather not listen to your music through your shower head, how about Broan's bathroom fan-based sound system? The SPK110 also uses Bluetooth connectivity to play whatever you want to listen to while in the bathroom. Broan is known for powerful ventilation systems, and this is no exception. Even with Sensonic speakers, this bathroom gadget is Energy Star certified and is rated for bathrooms up to 105 square feet.
If your bathroom needs a fan upgrade anyway, this bathroom sound system is reasonably priced on Amazon at $145.42. Check out the full Home Tech Scoop review on the SPK110.
6. Amphiro A1 Self-Monitoring Water Meter
The bathroom technology not only looks cool, but it saves water and money too! The Amphiro A1 Self-Monitoring Water Meter is powered by water moving to your showerhead. Your water usage and temperature are displayed numerically, and as your shower goes on, the display's adorable polar bear becomes homeless as its iceberg melts. If that doesn't make you want to save water and energy, I don't know what will.
The water meter is available on Amazon for $99.99. For app connectivity, you can upgrade to the Amphiro B1. Read our in depth review on the Amphiro Self-Monitoring Water Meter for more information on this bathroom gadget. 
7. PureGuardian SPA210 Ultrasonic Aromatherapy Essential Oil Diffuser
Add this accessory for a spa-like element in your high tech bathroom. The PureGuardian aromatherapy diffuser uses ultrasonic humidifier technology to add moisture and essential oils to the air within your bathroom (or any other room in your home). There's no heating process and the device shuts off automatically after 5 to 8 hours for worry-free aromatherapy. With a nightlight, touchscreen and Silverclean Technology, the PureGuardian diffuser definitely qualifies as a bathroom gadget.
You can buy this diffuser for less than $35, although essential oils are not included. Learn more about this diffuser from PureGuardian in our complete review. 
8. SROCKER Mirror Rechargeable Alarm Clock
Alarm clocks aren't the most high tech elements of a room, but this mirror/alarm clock combination will give your bathroom a futuristic feel. This alarm clock uses a USB charging cable to power its features, which include the obvious alarm, a large digital clock and helpful night light. Plus, when you combine the night light and the mirror, you have a great place to touch up make up when someone else is hogging the bathroom mirror.
This bathroom gadget will only set you back $22.99 and is a great combination of form and function. It's available in champagne, white and silver to match any decor.
9. iRobot Braava jet 240 Mopping Robot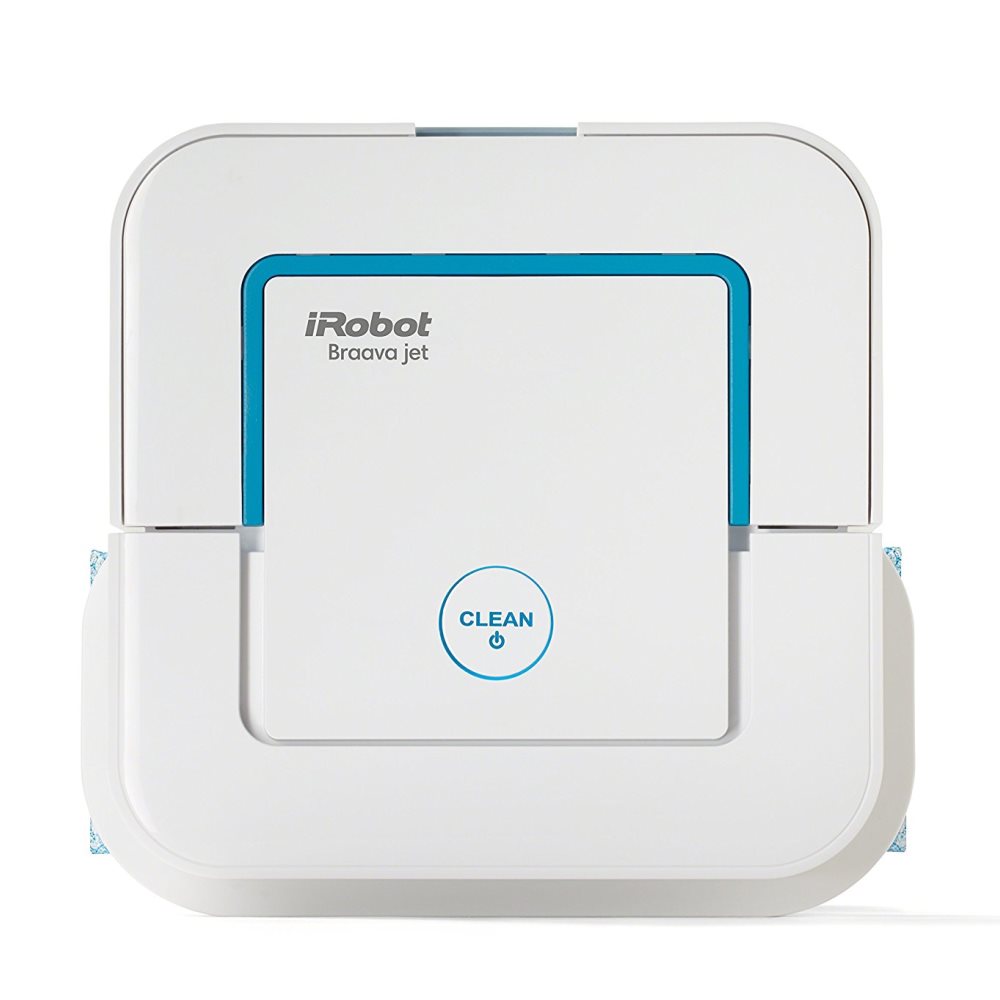 The best part of a smart bathroom is automated cleaning. The small but powerful iRobot Braava jet 240 Mopping Robot is perfect for small spaces with smooth floors. Sweep up hair and dirt with a dry pad, or go for a deeper clean with the wet mop pad, which comes infused with cleaning solution. Reviewers were impressed with the mopping robot's ability to avoid obstacles like baseboards and sinks.
This bathroom gadget will set you back $162.55 when you buy it on Amazon, and refill sweeping and mopping pads are available in 10 packs for $8. Check out our in depth review of the iRobot Braava jet 240 for more information.